Located at 11078 West Jewell Avenue, B-2, this Denver dry cleaners is conveniently situated on Kipling St and Jewell Ave in the back corner of the Safeway shopping center (Heritage West Shopping Center). With curbside service, free pickup and delivery, and self-serve options, Dependable Cleaners makes it even easier for you to receive professional dry cleaning and laundry services. For over 20 years, this Dependable Cleaners location has proudly served the Lakewood community and surrounding areas, including: 
Green Mountain 

Bear Valley 

Belmar 

Golden 

Littleton 
Full Service Dry Cleaning & Laundry Services Near Lakewood, Colorado
Dependable Cleaners offers a variety of services to help you cross laundry off your to-do list. Our recently remodeled store added a new washer and dryer to its arsenal in 2017, allowing  our team to offer the following specialty services on-site: 
The Kipling and Jewell location handles all of your dry cleaning and laundry needs including: 
Your Laundry, Your Way 
At Dependable Cleaners, we believe laundry should be easy. That's why we offer convenience options to help our customers save time. Our Lakewood dry cleaner offers several options to make getting your laundry done easier than ever: 
Curbside pickup 

Free pickup and delivery from Alameda Ave to Bowles and Sheridan to C-470

24/7 self-serve kiosk 
Frequently Asked Questions about our Amenities
How does curbside pickup work? 
You can use our curbside option to pickup and drop off clothing. Simply call the store ahead of your arrival to let the team know you're on your way. Once you pull up to the curb, a team member will come outside to assist you. 
How does the self-service kiosk work?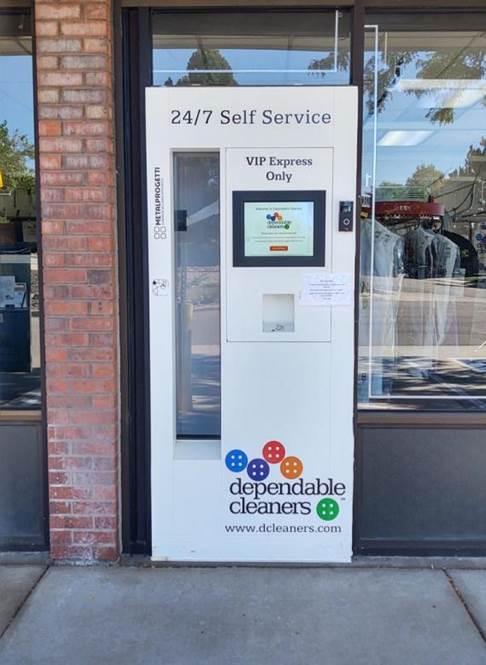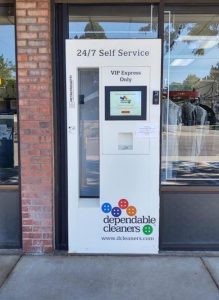 At this location, the 24/7 kiosk is conveniently located to the right of the front door. This self-serve kiosk allows you to pickup or drop off your clothing 24 hours a day, 7 days a week. Using the barcode is easy and provides a no conteact way to drop odd and pickup your dry cleaning- just scan your account barcode on your smartphone to begin. To learn more about how to pickup or drop off your laundry and dry cleaning, visit our self-service kiosk page. 
The Team At Kipling & Jewell 
The team at the Lakewood Dependable Cleaners location is led by Angela Nielsen, who's been with the company for over 14 years. Angela and her team focus on treating every customer's clothes with the utmost care. Clothes are an investment and a reflection of each clients' personality, and the Dependable Cleaners team takes pride in keeping them in the best shape possible. In addition to their superb service, the team aims to exceed customer expectations by treating each client with positivity and warmth. 
"We treat our customer's clothes with the upmost care. We realize clothes are an investment and we want to make sure we help keep them in the best shape."
If you're looking for an exceptional dry cleaner in the Lakewood area, visit Dependable Cleaners' Kipling & Jewell location, or sign up for free pickup and delivery service today!