On the corner of S. Broadway and Mexico, in Denver's Platt Park neighborhood, sits the original Dependable Cleaners. Our first dry cleaning location opened here over 70 years ago. Since 1947, we have dry cleaned and washed A LOT of clothes. We have also cleaned bedding, wedding dresses and more over the years as we've watched styles come and go.
At one time, this store acted as our plant, but today it serves as a dry store. Our Dependable Cleaners on S. Broadway is also home to our corporate office, and serves as the hub for our Coats for Colorado non profit.
Our South Broadway location offers the following services:
Convenient Curbside Service
Let us come out to you! Our curbside service is a great option for our customers when time is of the essence, and is a benefit to new mon's and our disabled patrons, and is low contact. We're happy to meet you out front curbside and bring your clothing in and back to you on your return. Simply give us a call at (303) 777-2673 when you are on your way or when you arrive and we will come right out to you.
About The Dependable Cleaners 1701 S. Broadway Team
The wonderful Kasina Swartz manages the Dependable Cleaners S. Broadway location and has been with us for nearly 4 years. When asked what she loves about working here, Kasina said, "As the base of operations for all things Dependable, I love being in on all the action. Plus, Coats for Colorado operations is based here as well." Her amazing team is knowledgeable and authentic. Committed to rising above and providing the best service possible, the team has adopted the infamous words of Eleanor Roosevelt: "You must do the thing you think you cannot do."
The Coats for Colorado Hub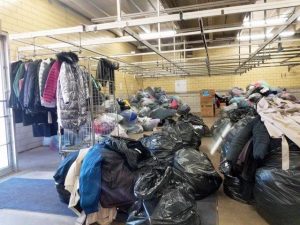 The South Broadway location is our Coats for Colorado hub, where coats are sorted for distribution to get them to those in need. We spend months operating out of the warehouse for this program and are proud to have this space, the team and the volunteers who make this effort possible.
In 2019 we were able to provide nearly 30,000 coats to 146 different non profits, this year we are anticipating serving around 140 non profits this year and close to 25,000 coats given.
It's hard to believe that the holiday season is just around the corner. We are proud to continue our partnership with Fox-31 Denver and Colorado's Own Channel 2 for "Coats for Colorado" for 2020. For the past 38 years, Coats for Colorado has worked with 120 non-profit health and human service agencies to collect, clean, and distribute over 2 million winter coats in the Denver metro area for the underprivileged. We invite you to drop off your winter coats any time between now and November 30. Learn more about this special initiative by visiting coatsforcolorado.org.
Due to Covid-19, we are taking extra precautions with volunteers, requiring them to wear masks and gloves. We also request that coats be bagged when dropped off.